Special:Badtitle/NS100:ToxSpriteEditor: Difference between revisions
From Populous Wiki
 

Line 109:
Line 109:

<big>Download Toxicity's Populous Sprite Editor (v1.4.0) [https://github.com/Toksisitee/PopSpriteEditor/releases/download/v1.4.0/PopSpriteEditor.v1.4.0.zip Here].</big>

<big>Download Toxicity's Populous Sprite Editor (v1.4.0) [https://github.com/Toksisitee/PopSpriteEditor/releases/download/v1.4.0/PopSpriteEditor.v1.4.0.zip Here].</big>






[https://ts.popre.net/archive/Downloads/Utilities/PopSpriteEditor-1.3.2_src.zip Source Code]

[https://./archive///...zip Source Code]






[https://github.com/Toksisitee/PopSpriteEditor Github Repo]

[https://github.com/Toksisitee/PopSpriteEditor Github Repo]
---
Latest revision as of 05:18, 22 February 2022
Populous Sprite Editor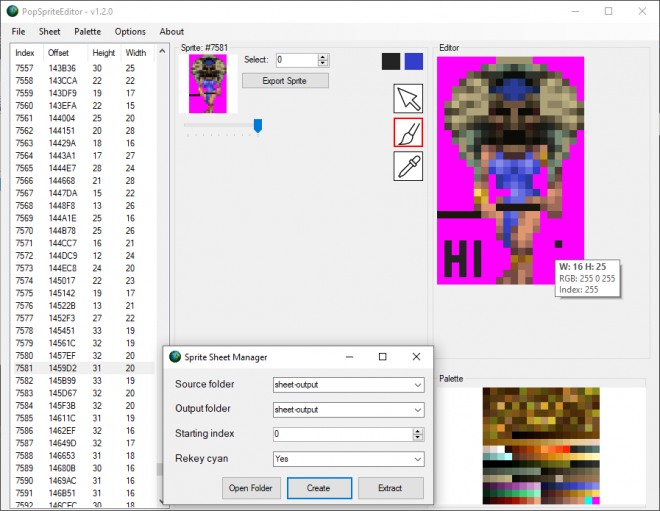 by Toxicity
Toxicity's Populous Sprite Editor is a program created by Toxicity (2020), and allows the user to import/export Populous sprites.
Features
Open Banks
Preview scaled sprites (slider) with nearest-neighbor interpolation.
Export sprites as bitmaps (individually or in bulk).
View offset, index, width, height and raw data of each sprite.

Create Banks
From bitmaps of any width & height.
Append or insert to an "existing" bank.
Modify original sprites width & height.

Color Palette
Preview color palette.
Adjustable color key.
Export to bitmap format.

Pixel Inspector

Hover over an image and a tooltip will appear showing the highlighted pixel's values:
Position (current width & height).
RGB values.
Index in the color palette.
Right click to copy RGB values.

Sprite Editor:
2 color slots (right/left click).
Brush mode; paint individual pixels (r/l click).
Color pick mode; copy RGB values from highlighted pixel (r/l click).
CTRL + Z (undo).
CTRL + Y (redo).
Key B (brush mode).
Key Y (color pick mode).

Sprite Sheet Manager:
Generate sheets from frames.
Parse & Split sheets to individual frames.
Procedure
Usage is straight forward. The numbering (names) of the bitmaps is the order they'll be saved in, and any gaps in the numbering isn't a problem as the editor will renumber the files internally. Files that aren't bitmaps or bitmaps with letters in the name will be ignored.
Download the latest release. (links at bottom of this page)
Ensure pal.dat is located in the same folder as the software.
Open a valid bank File -> Open from the game's data folder.
Export all sprites within the bank File -> Export Sprites.
Open the newly created folder output (editor folder), it should contain all saved sprites.
Modify (resolution and/or colors), delete or add new bitmaps.
Create a new bank from these bitmaps File -> Create Sprite Bank -> From Images.
Replace the original game's sprite bank with the newly created one.
Sprite Sheets
A valid sprite sheet has to abide by the following rules:
Sprites can't touch corners or edges; ensure there's a space between of at least 1 pixel.
New rows have to be separated by a pink continuous line.
Background color has to be cyan. (RGB: 0, 255, 255)
Color key color has to be pink. (RGB: 255, 0, 255)

Credits
License
PopSpriteEditor Copyright © 2020 Toksisitee. This program is distributed under the GNU GPLv3 license. See the LICENSE file for more details.
Links
Download Toxicity's Populous Sprite Editor (v1.4.0) Here.