Åsgard
From Populous Wiki
(Redirected from AsG)
One Of the Leading clans in Populous: The Beginning leading Multiplayer matchmaker Populous Reincarnated.
Åsgard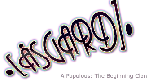 Members : MentiX, BlackWe, Koen, NanoSaurus, Homeboy, Zasamel, Ragnj, Yekralc, SewerAssassin, Peaveyplaya, Shakkazulu, Radiance, Salty, Storm, Sunny, Howl, Spudhead, eddie20, Drummerdude48, Snak, DAroo, Staszek, Soda
Leaders : Sub Zero, Hundredth, Boyd
Tag : [AsG]
Founded : June 28th 2005
Origins
Åsgard formed out of the ashes of the dying Dragon Team in June 2005. As DT fell apart due to bad new recruits and misunderstandings between members, Sub Zero and Hundredth decided to form a seperation, make a new clan. Åsgard was born.
Foundation
As recruitment began, specific outlines were set. Åsgard was planned as, is, and always will be a clan for the non-smackhead minority of the community. Quickly a solid group of friends was born - and after a brief stint with some ad-ridden wank - the current forums were created. (August 5th 2005).
Collision
After over two months 'undercover', Åsgard emerged as a 7-member strong clan with the [AsG] tags on August 13th.
Sub Zero [ex-DT]
Hundredth [ex-DT]
BlackWe [ex-DT]
MentiX [ex-DT]
Scorpio [ex-DT]
PhiL [previously solo]
Koen [ex-MK]
Member Base
As Åsgard progressed, more and more players flocked to the ranks. Dozens were turned down, but the following were inducted:
August 05
September

homeboy [previously solo]

November

AdamDM [ex-TN]
Boyd [ex-TN]

January 06
February

kassaze [previously solo]
Master JJ [previously solo]
Zasamel [previously solo]

April
May

bdrx [previously solo]
Yekralc [previously solo]

July

peaveyplaya [previously solo]
SewerAssassin [previously solo]
Keith52 [previously solo]
August
shakkazulu [previously solo]
Fury [ex-AcM]

September
October

Storm [previously solo]
Flawless [ex-TDM]

November
January 07
Hierachy
Åsgard operates under a basic system, the clan is led by the current Odin, underneath are his spokesmen and co-leaders Loki and Thor - who form the high-council. The high-council make the more important decisions and moderate the forum. The council - the Æsir - handle the majority of the decisions about clan rules and vote on new recruits. The regular members still form the backbone of the clan as the Vanir. New recruits who are undergoing a trial process to see if they can earn the title of Vanir are known as Valkyries.
Odin - Leader

Hundredth - March 07 to present
Sub Zero - June 05 to March 07
Loki & Thor - High Council

Sub Zero - March 07 to present
Boyd - April 06 to present
Hundredth - June 05 to March 07
the Æsir - Council

Ragnj - December 06 to present
NanoSaurus - April 06 to April 07
Zasamel - July 06 to September 06
MentiX - December 05 to June 06
Boyd - February 06 to April 06
Koen - August 05 to December 05
Scorpio - June 05 to August 05
the Vanir - Members

BlackWe - June 05 to present
Koen - June 05 to present
MentiX - June 05 to present
NanoSaurus - August 05 to present
homeboy - September 05 to present
Zasamel - March 06 to present
bdrx - May 06 to present
Yekralc - May 06 to present
peaveyplaya - July 06 to present
SewerAssassin - July 06 to present
shakkazulu - August 06 to present
Radiance - September 06 to present
Storm - October 06 to present
Salty - November 06 to present
Sunny - January 07 to present
PhiL - August 05 to March 06 (left to join TDM)
Cakes - January 06 to April 06 (left to join Rw)
kassaze - February 06 to July 06 (kicked out due to inactivity)
AdamDM - November 05 to August 06 (left because of disagreements with the Council)
Master JJ - February 06 (has since been re-instated into the clan)
Scorpio - June 05 to September 06 (left to concentrate on more important things in life)
Keith52 - July 06 to March 07 (kicked out due to consistent rule breaking)
Fury - August 06 to May 07 (left to join Rw)
Flawless (aka Genesis) - October 06 to May 07 (left to join Rw)
External Links