Populous Skirmish
From Populous Wiki
Populous Skirmish is a program which allows users to play against computer-controlled opponents on Populous Multiplayer levels.
History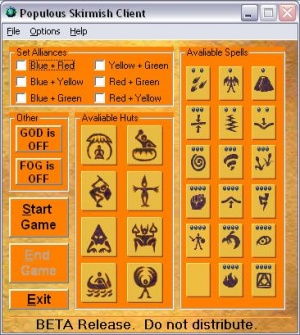 Some time ago, Khickman obtained Servant's Cray Bot program and decided to test it out. Having liked some of the features of the program, Khickman eagerly awaited another release which boasted more levels and the ability to custumize the avaliable spells for the game. Unfortunately, only the one version was released, and the author, Servant, was discredited for his work as he had been accused of lying about the software's use of Artificial Intelligence.
After Servant had left the community and the truth had been exposed about Cray Bot, Khickman decided it was time to make a new program which he called Populous Skirmish. With the combination of his own work and TedTycoon's Spell editor source, Khickman set out to write this new program. To get the attention of the people, Khickman posted a teaser thread about Populous Skirmish to grab the attention of Populous fans. The ploy worked and the first version, BETA 1, was released on June 8, 2004. The first release had 25 levels avaliable for users to pick from (Cray Bot only had 5) as well as the ability to fully custumize the avaliable spells and buildings in a match (which was not avaliable in Cray Bot). While the first release had no real scripts, it was a great start to a wonderful program concept and the public seemed to like it.
Populous Skirmish will most likely go uncompleted. Khickman himself says that the task of making one-hundred and fifty AI scripts is much too hard for him to do. There is a possibility he will give the source code to somebody else and let them finish the program instead.