Spell Editor
From Populous Wiki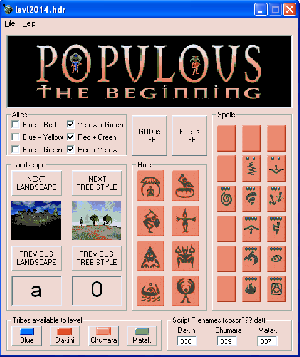 The Spell Editor is a program created by TedTycoon. It edits the header(.hdr) files in a graphical interface.
Populous Spell Editor Version 1.3 Help
Version 1.3
1. Addition of script file names 2. Correct tree picture now shown for style 6 3. Pressing Help now opens this file
Version 1.2
1. Addition of allies and tribes available in level 2. Some corrections to landscape pictures displayed
Version 1.1
Addition of Tree Styles
Version 1.0
First Release
Use for editing the spells available, huts available, landscape style, god mode and fog mode of populous levels.
To use:
1. Make a backup copy of your populous LEVELS directory, since the editor will change the level header files LEVL????.HDR.
2. Run SpellEditor.exe
3. File Load the level you want to edit. For a list of filenames vs Populous level names see below.
4. The current properties are displayed
5. Click on the buttons to make changes
6. File Save the level
7. Play

Notes:
1. You can make changes while populous is running, but these changes will not be effective until the hdr file is reloaded, either by loading a saved game or returning to the main menu or planet screen.
2. You can click on guest spells, but they are not saved.
3. Ghost army is for multi-player games only.
4. Click on the last colour tribe you want to be available in the level e.g. Click on Matak - Tribes available to level if you want a two player level with Blue & Green. This will show all four tribes, but whether they actually appear depends on their inclusion in the levl????.dat file. However, if you set Tribes available to Chumara (Yellow), then the Matak will not appear even if they have been coded into the levl????.dat file.
5. Script files - this corresponds to the last three digits in the name of the script (cpscr???.dat) and attribute (cpatr???.dat) files for the computer players in single player games. The number cannot exceed 255. The easiest way to edit them is to delete the existing numbers and retype.