MP Monitor
From Populous Wiki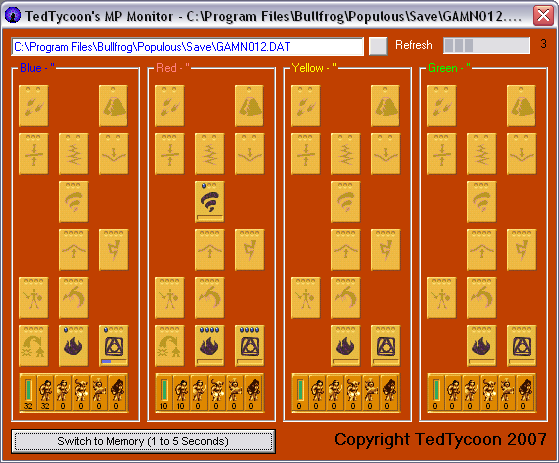 The MP Monitor stands for 'Populous Multiplayer Monitor' which is a program created by TedTycoon which allows you to view, the spells and follower counts of each player in a saved game, resync game or in memory.
History
The program was thought of after the Saved Game Modifier was shown. The program that allowed you to view:-
Available Spells
Charging Spells
Shot Quantity of the Spells
Charge Amount of the Spells
Follower Count
For each player in a graphical view.
Program
The program opens resync games which are multiplayer saved games which are saved every 20 seconds. One the second version you could open the game in memory using the MP Sender. The next version then allowed you to see Guest Spells and spells that aren't normally available, but were obtained from Stone Heads.
MP Sender
This is packaged with the MP Monitor. It collects data from Populous in memory and sends it to the client MP Monitor. The MP Monitor must input the IP Address of the computer running the MP Sender. This allows you to see the MP Monitor on one computer while playing Populous on the other one. Using your own IP Address will allow you to use the MP Monitor on memory on the computer your playing on.
A Video Demonstration of using the MP Monitor can be found here.
Version 3.0
In middle 2007 the MP Monitor was re-written due to the popularity. The monitor was written in .Net Framework and is a lot more stable than the previous versions. It also has a number of new features which include:
See charge amount for spells not currently charging
Memory Access (Software & Hardware)
Number of completed buildings
Statistics (Same as when you press 'S' or space bar at the end of the level)
Menu Bar like most common programs
Chat Log
The sender was also updated which can now be minimized into the taskbar. A comming soon screenshot can be found here.
See Also
External Links