Symmetry Tool
From Populous Wiki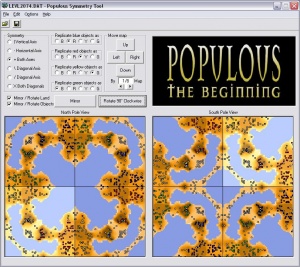 The Populous Symmetry Tool is a freeware utility created by TedTycoon that mirrors sectors of a populous map with the associated objects to create symmetry thus allowing users to easily make their maps fair for multiplayer use.
History
The tool was made before any public editor. Ted first made it so that he could make four-way maps fair as this was difficult to do using a hex editor. The first version did not display the map but due to the popularity and interest in it, Ted enhanced it to display, move and mirror the map diagonally.
The program was a success and was used to create many maps that are played today. The utility went through many update stages and has now got many new features.
The lastest version of the symmetry tool can be found at its official site.[1]
You can watch a simple tutorial on how to use Symmetry Tool HERE ,made by Divinity .