Special
:
Badtitle/NS100:Installing a Campaign
From Populous Wiki
This is a guide on how to manually installing a custom Populous campaign (using the file replacement proccess). It is however possible to use the Multiverse Launcher for an easier method of installing and playing multiple campaigns at once.
Requirements
Full Populous game Installed
Custom campaign files (or a link to download it)
Unzipper (most links will download a .zip/7z file, which requires a software to uncompress the files
Procedure
To install a custom campaign ( more precisely, an Unofficial Campaign, the requirement is to have the full game installed. If one has downloaded the Multiplayer Essentials from PopRE, it will not work, since that file's purpose is to be able to play online, not offline.

After having a full game installation, the only requirement is to find a working link for the custom campaign to play, and to download it. Usually, links for campaigns can be found on their wiki's page ( see bottom of Unofficial Campaigns for a direct list to the campaigns).

The last step for installing a custom campaign is to extract the ZIP file inside the Populous directory (where the complete Populous game is installed). After accepting to replace all the files, the campaign is now installed. Starting the game will now play it.
Downloading a Zip File
In most places, the custom campaign to download will be compressed inside a Zip file. After downloading it, opening it will allow the user to see some files, such as "levels", and/or "data", "language", etc
Such files are the ones to be replaced from the existent ones inside the Populous directory.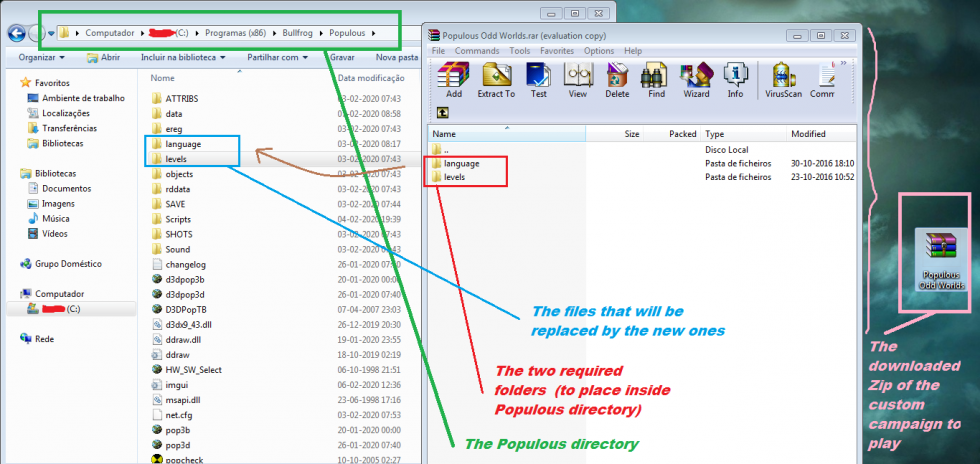 Notes
Some custom campaigns, such as Path of the GodChosen, have custom constant files, which means that, after installing such campaigns, getting launched in to a game on the matchmaker will refresh the constant file. After that, going back to singleplayer to play said campaign will have the consequence of having the wrong constant file. To avoid this, either don't get launched on the matchmaker, or reinstall the custom singleplayer campaign every time you do.
Your Populous directory can be different, depending on your machine's system. Using the search/finding tool on your machine can help you find it.
A full/complete digital Populous version can be purchased on GoG or other platforms. The Populous community can be helpful in assisting anyone who's looking for it. Find them on the PopRe Matchmaker or Discord.