Magical Shield
From Populous Wiki
Magical Shield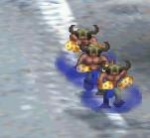 Mana Required : 600
Shots : 4
Range : 8
Duration : 2 Minutes
Incantation : SSsssppp

Magical Sheild is a defensive spell similar to
Invisibility
which will protect your followers from direct spells from enemy
Shamans
and fireballs from
Firewarriors
. The spell can only be used on followers but not your
shaman
. You receive Magical Shield from a
Vault of Knowledge
on level 14:
Attacked From All Sides
. The Magical Shield spell is not in the Default
Multiplayer
Restrictions.
Tactics
Firewarriors have a magical attack similar to blast, so when you see a lot of firewarriors coming to attack your base simply cast Magical Shield on your own followers and they will be resisitant to the enemy firewarriors.