Human Shield
From Populous Wiki
Human Shield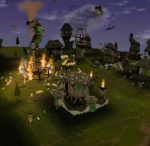 Mode :
Singleplayer
Players : 4
Stone Heads : 2
Vault of Knowledges : 0
Alliances : Yellow & Red
Difficulty : Medium
Starting Speech
"The Dakini and the Chumara have long been allied on this world. Their power is great. The Matak, like you, survive outside this alliance. But their position is not strong. Once the Matak fall, the might of the alliance will surely fall on you."
Setting
The player starts on a large hill, which is connected by a curved, gradual slope to a region of flat land containing the Matak settlement. This piece of land is surrounded on all sides by water.
The Dakini and Chumara also share an island. One end has a tall hill, while the other is fairly flat, jagged coastline. There is a short peninsula coming off this coast containing a Stone Head. That stone head, closer to the Dakini's settlement, grants 2 shots of Angel of Death. On the other hand, the stone hand on top of the hill, near the Chumara, grants one shot of volcano.
Enemy tribes: Dakini, Chumara, Matak
Strategy
Build up your base as much as possible while the Matak still survive. It is important to line the cliffs near your settlement with Guard Towers, as the Chumara will rely on balloons to attack once the Matak are gone. After you've established a strong defense, scout the enemy's island with your Shaman. If you have sufficient mana, all you will need to defeat the enemy tribes are your shaman and land destruction spells (Earthquake, Erode, Flatten)