The Beginning
From Populous Wiki
The Beginning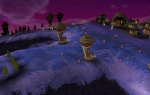 Mode :
Singleplayer
Players : 4
Stone Heads : 0
Vault of Knowledges : 0
Alliances : N/A
Difficulty : Very Hard
Starting Speech
"Finally,I am a god. I shall wreak my revenge upon the unbelievers!"
Strategy
This level is well prepared for the player because the player starts off with lots of large huts and 50 followers. The player is also a god and meaning they do not have a Reincarnation Site and spells can cast at any range.
This level is hard because the enemy really attacks the player and have about 50+ people attacking the player from 1 tribe, 2 tribes attack the player: the Dakini goes first to attack and the Chumara attacks second. The two tribes attack really early, and the Matak builds houses right near the player's settlement.