Solo
From Populous Wiki
Solo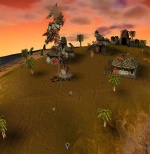 Mode :
Singleplayer
Players : 4
Stone Heads : 3
Vault of Knowledges : 0
Alliances : N/A
Difficulty : Intermediate
This short level is the twenty-second level in Populous the Beginning. You start off with your shaman and no followers. You do not have convert or any huts to build with. The only way of getting followers is by hypnotising followers before their tribe dies off. This level can be quickly done and is not that hard for where it is in the game.
Starting Speech
"I am alone... I shall need all my strength and cunning to survive on this world."
Setting
You start off with a Shaman and no Reincarnation Site on a wide peninsula connected to the Dakini camp. There is an obelisk next to you which will grant you full shots for every spell.
Next to it is a tiny island with an obelisk on it which should be worshipped later. Not too far off is a slightly larger island with the Chumara tribe on it and an abandoned balloon.
Further off is a mountainous island which is where the Matak settlement is. There is a small round peninsula which grants you some more mana in case you have run out of spell shots.
Enemy tribes: Dakini, Chumara, Matak
Worship Objects:
| | | | |
| --- | --- | --- | --- |
| Item | Shots | Spell/Effect | Follower Count |
| Obelisk | 1 | Full Spells | 1 |
| Obelisk | 1 | Mana Boost | 1 |
| Obelisk | 1 | Mana Boost | 1 |
Strategy
First you worship the obelisk that is on your island, this will give you full chargements of your spells. You can easily kill the Dakini off and steel their boat. If you use Hypnotise try and use it towards the end of finishing them off so you get some followers to your side forever.
Next sail to the Chumara and hop into the balloon by the hill. Next use minor spells again to face off the tribe. (Watch out for the Firewarriors). When you finish the tribe off goto the nearest obelisk and claim some mana to boost some of your spells.
Now fly your way towards the Matak and fight them off. After you have killed half of them you can have a mana boost by worshipping the obelisk that is on the Matak's island. Now finish the rest of them off, keep killing their shaman to increase your mana further.