Tutorial
From Populous Wiki
Tutorial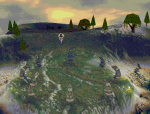 Mode :
Singleplayer
Players : 2
Stone Heads : 8
Vault of Knowledges : 1
Alliances : N/A
Difficulty : Beginner
Setting
You find yourself on an island with an Obelisk. There are more islands around which represent the three tutorials. You'll be teleported to them by praying at the other obelisks. The enemy shaman in in a crater that is unreachable.
Enemy tribes: Dakini
Worship Objects:
Strategy
There's not much you can do wrong. Begin by praying at the Obelisk near your Reincarnation Site. This will cause three new obelisks to rise. Each of them will teleport you to one of the tutorials. Let's start with the left obelisk. It will teleport you to the Building Tutorial. You simply have to build two additional huts. After that another obelisk will appear and teleport you to the starting island again. Now let's go to the Fighting Tutorial. First you have to train two warriors in the Warrior Training Hut. Then you'll have to fight against a brave. After that you are taught how to use warriors and preachers. Another obelisk will appear and teleport you back to the starting island. The last tutorial is the Spell Tutorial. Pray at the Stone Head to get one shot of Lightning and use it against the Guard Tower. If you miss it somehow,you'll get another shot until you hit the target. After that pray at the Totem Pole which will create a landbridge towards the Vault of Knowledge. Pray at it and you'll get the Blast spell. Use it to knock the braves into the water. Lastly,another obelisk will appear. Pray at it and you'll be teleported to the starting island again and win.
It is possible to kill the enemy shaman by using cheats. You can cast an Angel of Death in order to kill her. Casting landbridge or flatten in order to get to the crater is not possible.