Treacherous Souls
From Populous Wiki
Treacherous Souls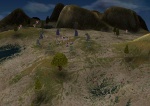 Mode :
Singleplayer
Players : 3
Stone Heads : 2
Vault of Knowledges : 2
Alliances : N/A
Difficulty : Medium
Treacherous Souls is the eleventh level in Populous The Beginning, where the player faces the two tribes: the Chumara and the Matak.
Starting Speech
"Once again we must face two tribes. I shall crush the Matak, then I must deal with the greater threat of the Chumara."
<html5media height="720" width="1280">https://ts.popre.net/files/mp3s/Level%2011%20-%20Introduction.mp3</html5media>
Setting
The player starts off on a large island shared with the Matak tribe who guard a Vault of Knowledge containing the Swamp spell. There are many hills and paths over the land and a Stone Head with three Swamp spell shots nearby. Southwest of blue's Reincarnation Site is a small island with another Stone Head on a hill. South of that is the Chumara tribe's island where they guard another Vault of Knowledge containing the Hypnotise spell.
Worship Objects:
Strategy
A good way to start is to begin building a few huts and convert some wildmen. Build three towers along the shore and then build another tower on the hill next to your Reincarnation Site. Build your training huts on the hill and train several firewarriors.
Place some patroling warriors and preachers to block paths from your base pointing to the Matak village. This should help defend from Matak attacks and your towers should kill the Chumara Shaman before she can do much damage. When the Chumara landbridge to the southwest island add some defense close to that island so that you are prepared for them later.
Whenever you're ready, gather up an army to attack the Matak. DO NOT use defending followers, keep them in place. Head over to the Matak settlement and destroy as much as you can. Your base defense should be able to handle attacks from the Chumara without your supervision. Kill the Matak tribe and collect the Swamp spell from their Vault of Knowledge. Now send some braves to expand your base using the extra land you have gained.
When you are ready to attack the Chumara, gather up an army and send them to what was the Matak settlement. Use your shaman and backdoor the Chumara using landbridge. If your shaman dies during your attack, landbridge from your Reincarnation Site to the Chumara island as a quicker route and bring some reinforcements. You should be able to finish off the Chumara and collect Hypnotise for your own use.
Quick Way
The level can be completed in at least 7 minutes.