Fortress
From Populous Wiki
Fortress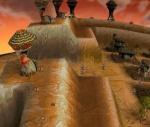 Mode :
Singleplayer
Players : 2
Stone Heads : 2
Vault of Knowledges : 0
Alliances : N/A
Difficulty : Very Hard
Fortress is the tenth level in Undiscovered Worlds where you face the Dakini who control a large fortress. The Dakini will leave you in peace until you attack or are caught by them. A multiplayer version of this level exists called Fortresses.
Starting Speech
"The Dakini have long kept a mighty stronghold on this world. Currently they are unaware of your presence. Perhaps, it would be wise to keep it that way until you are ready to strike."
Setting
There is a very large island where you and the Dakini are on. Your tribe cannot be discovered unless the enemy sees one of your followers. There is a smooth hill North of your village. North of it is a small plain which divides you and the Dakini. The Dakini have a very powerful fortress. The walls are actually steep mountains. At the center of the front of their fort is a large opening from which they attack. Inside the walls is their city. A landbridge going up allows them to go on top of the wall. Behind the wall is a Stone Head. A small island in the middle of the sea bears another Stone Head.
Strategy
Defence
To stop the Dakini from attacking your city, send your Shaman to the top of the Dakini mountain wall (Note: Mind the firewarriors. Many are inside towers). There's suppose to be a large opening where the Dakini armies start from before attacking. Close it by using the Landbridge or Flatten spell at the edge of the canyon opening. They won't be able to attack now.