Incarcerated
From Populous Wiki
Incarcerated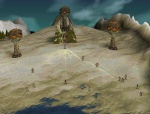 Mode :
Singleplayer
Players : 2
Stone Heads : 1
Vault of Knowledges : 0
Alliances : N/A
Difficulty : Hard
Starting Speech
"The Dakini have trapped me in this magical prison and I cannot escape. I must command my followers to free me or we are all doomed."
Setting
Your followers are settled on a small, circular island with a hill in the centre that is covered in trees. Your base holds all the training huts, a few regular huts and a boat hut. West of your base is a long island where the Chumara are settled. Three firewarriors in Guard Towers protect the east coast. On the coast, many Chumara warriors supported by preachers prevent access to the west. West of the patrollers is the prison that holds your Shaman, surrounded by three more Guard Towers with firewarriors. West of the prison is a cliff that overlooks the fully constructed Chumara settlement which is cramped in a small area with a ridge preventing access from all sides but the east.
Enemy tribes: Chumara
Worship Objects:
Strategy
This level can be challenging at first if you do not come up with a quick and effective strategy for liberating the Shaman. The following strategy shows one effective way of doing this.
Send a few braves to build four boats. Meanwhile, train ten warriors and ten preachers. When your boats are finished load your trained units inside so that each boat holds five followers.
Send all boats to land on the eastern shore, ignoring the eastern Guard Towers. Use your preachers and warriors to claim the beach and send your warriors to kill the firewarriors surrounding the prison. Once all this is done destroy the prison and send your Shaman to pray at the Obelisk that appears west of where the prison was.
The Obelisk grants your Shaman a Volcano spell, which you can use from the cliff overlooking the Chumara base to destroy it. Find any remaining followers and eliminate them (without losing your Shaman) and victory will be yours.
Trivia
There is a small mistake in the in-game starting speech. 'Dakini' should have been 'Chumara'.
This is the third level in Populous that has a timed objective.