Natural Disaster
From Populous Wiki
Natural Disaster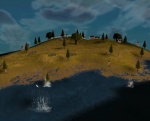 Mode :
Singleplayer
Players : 2
Stone Heads : 2
Vault of Knowledges : 0
Alliances : N/A
Difficulty : Diabolical
Natural Disaster is the last of the twelve levels of Undiscovered Worlds.
Starting Speech
"For this, your most challenging test, you will have to act quickly, shaman. Safe ground is your best hope, but the matak are settled there. Claim it as yours!"
Setting
You start with a small base which consists of five medium huts and a tower but some more space to build on a narrow spit of land. The Matak's base is covered in fog. The hard part of the level comes when the spit of land in which your base is starts to sink little by little leaving you a small space to build near the enemy base.
Enemy tribes: Matak
Worship Objects: