World Wide Web
From Populous Wiki
World Wide Web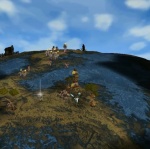 Mode :
Singleplayer
Players : 3
Stone Heads : 3
Vault of Knowledges : 0
Alliances : N/A
Difficulty : Medium
World Wide Web is the fourth level in Undiscovered Worlds. Three tribes fight on this peculiar shaped world, and, for the first time, stone heads that grant units are featured.
Starting Speech
"On this world you will be sorely tested. Acolyte, no one can build the training huts you so rely on. Instead I shall award specialists to the tribe that proves its faith."
Setting
The player starts on a relatively large piece of land, connected to others by thin strips of land. At the beginning, most of the world is covered by fog of war, excluding areas containing three Totem Poles. Each totem pole gives a different unit when worshipped, either a Warrior, Firewarrior or Preacher.
Worship Objects:
Strategy
As said in the starting speech, you cannot build Training Huts. Instead you need to rely on the Totem Poles to provide you with stronger followers. Convert a large number of Wildmen early on, build a settlement and then take a fairly large group of followers (9+) to worship at a totem pole. Your shaman should also be located around the totem pole, as enemy tribes will constantly interrupt your followers' worship.
Only focus on one Totem Pole at a time - stretching your followers too thin may lead to your losing all of them. Your settlement can be defended with some of the reward units.
Once your defenses are well established you can go to attack other tribes. As your enemies also fight each other, this part will be fairly easy.
Note: Traveling enemies are particularly vulnerable to Blast due to the thin causeways.